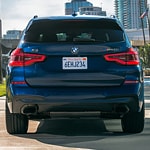 The popular BMW X3 luxury sedan is all about convenience and safety. It has the protection of you and your passengers in mind thanks to the designs that come standard with every new X3 today.
It comes, for example, with an information projection feature that projects data from you driving to the windshield. It shows you your speed, navigation, and the posted speed limit so you can keep your eyes on the road.
It also has an optional advanced protection package that you can get at the time of purchase. This package comes with features like blind-spot detection and lane-keeping assist. It alerts you to dangers in the passing lane or in your blind spot if you want to pass traffic ahead of you. It signals also when you begin to drift onto the shoulder or cross into the other lane of traffic so you avoid an accident.