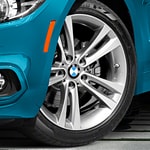 The BMW 4 Series is one of the most popular luxury coupes on the road. That's because the 4-Series is known for providing the ideal combination of style and performance. Here are some amazing things that you should know about this year's BMW 4-Series.
You can get the 4 Series in a number of different body styles. You can get the 4-Series in an attractive two-door coupe. You can also get the 4-Series as a four-door Gran Coupe. Finally, the 4-Series is available as a fun convertible.
When it comes to speed, the 4-Series delivers with a 0 to 60 mile per hour time in as little as 4.6 seconds. That power comes with a 320 horsepower engine that gives you a fun driving experience on any road.