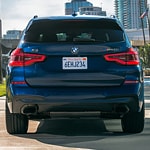 The new BMW X3 is one of the premier luxury compact SUVs on the road today. It features innovative designs and exciting amenities that make it comfortable and enjoyable to own and drive.
To start, the new X3 from BMW comes in nine eye catching metallic exterior colors. Choose this compact SUV in colors ranging from basic white to bright metallic blue. It also offers ample cargo room where you can store everything from large bags of groceries to sporting gear and camping equipment. You get dozens of feet of cargo space that you can access easily from the SUVs user-friendly power gate.
The X3 also has a gas/electric hybrid six-cylinder engine that makes this SUV ideal for taking out in any driving condition. Its powerful all-season tires can be driven over the smoothest of city roads to the bumpiest and rockiest of gravel and mountain trail with ease.