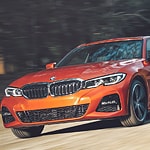 The all-new 2022 BMW 3 Series has been released and it is looking better than ever. The exterior has been completely redesigned with:
-New Front and Rear Bumpers: The front and rear bumpers have been completely redesigned. They are now more aggressive and sporty looking. This means that the car will look great on the road and will be able to turn heads.
-New Headlights: The headlights have been completely redesigned and they now feature LED technology. This means that they will be more efficient and will provide better visibility while driving.