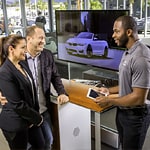 If you're the proud owner of a BMW, then you know that it's not only a thing of beauty, but it's also a finely-tuned machine. That's why it's so important to have a good understanding of BMW's service and maintenance. In this blog post, we will discuss the different types of service and maintenance that your BMW will need, as well as when they should be performed. We'll also give you some tips on how to find the best BMW service center in your area.
As the owner of a BMW in Cicero, NY, it is important to keep up with regular service and maintenance in order to keep your vehicle running smoothly. Depending on the model of your BMW, there are different types of service and maintenance that may be required. For example, newer models with turbocharged engines will require more frequent oil changes than non-turbocharged models.
It is recommended that you consult your BMW's owner's manual for specific service and maintenance requirements.