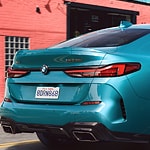 If you're in the market for a new luxury car, the 2022 BMW 2 Series is an excellent choice. This vehicle offers style, comfort, and performance all in one package. In this blog post, we will take a look at some of the features that are available on the interior of the 2 Series.
- Comfort: The first thing you'll notice when you step inside the BMW is the comfortable seats. They are upholstered in high-quality leather and have plenty of adjustabilities to ensure that you can find your perfect driving position.
- Technology: The infotainment system in the BMW is second to none. It's easy to use and comes with a variety of features that will keep you entertained on long road trips.
- Storage: The BMW has plenty of storage space for all of your belongings. The trunk is large and there are several compartments throughout the cabin that are perfect for storing smaller items.
- Leather Upholstery: The leather upholstery in the BMW is of the highest quality. It's soft to the touch and looks great.
- Wood Trim: The wood trim on the interior of the BMW adds a touch of luxury.
?