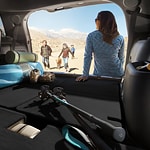 Going on a road trip this summer? Make sure you and your family are safe with these road trip safety tips! From packing the right supplies to avoiding accidents, we've got you covered. Follow these tips and have a fun and safe road trip!
Before you hit the road, it's important to make sure your car is in good working condition. This means getting a tune-up, checking your fluids, and making sure your tires are properly inflated. You should also create an emergency kit for your car. This should include a first-aid kit, a flashlight, jumper cables, and a map.
When you're on the road, there are a few things to keep in mind to stay safe. First, always buckle up - all passengers should be always wearing a seatbelt. Second, obey the speed limit and drive defensively. And finally, don't drink and drive - if you plan on drinking, make sure you have a designated driver.