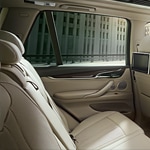 The BMW X5 is a popular SUV that offers plenty of space and comfort for families and friends. But what about the X5's interior? What makes it so comfortable and stylish? Here are the new things you need to know about the BMW X5's interior and comfort:
The BMW X5 has sufficient for passengers and cargo. It can seat up to seven people, and there's plenty of room to store luggage and other gear. The X5 also has a large sunroof with natural light and fresh air. For comfort, the X5 has power-adjustable front seats with lumbar support, and the second-row seats are spacious and recline. The cabin is well-insulated from road and wind noise, and the ride is smooth, even on rough roads.
The BMW X5 has a stylish interior with high-quality materials. The dashboard is clean and straightforward, and the center console is easy to use. The seats are upholstered in leather, and the headliner is suede.